PAP Youth union
Welcome to the official web site of PAP Youth section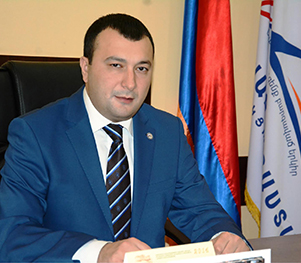 We are at the stage of social and political development.At this stage the youth role and  activities  are becoming very important and more involved in all spheres of  the state system.
In the whole RA territory the PAP Youth Union has 63 regional structures:12 of them are in Yerevan and the rest 51s are in the regions.
The party's working style and moral principles educate a kind of young generation preparing the senior ones for worthy generation change and turn them to be the carriers of Armenian high values, by sowing high responsibility in front of the state society and forming tolerable atmosphere.
In party's ideology and working style the generation solidarity has always been at the highest point. This statement is proved by the involvement of more than 25 young people in the Political Council, which considers the party's highest body. Nowadays there are thousands of people involved in the party rows, who are always in active motion and carry the party's powerful ideology.
Welcome to the youth section of the PAP! Wish the youth to climb high ridges, success and courageous conceives, which will promote our society and the state.
Hope that the information posted in the web-site  will be helpful and  serve the purpose.
The president of PAP Youth union,
RA deputy of National Assembly: Vahe Enfiajyan 
THE HISTORY OF THE PAP YOUTH UNION
According to the party regulation, from the first day of  its  establishment in the rows of the PAP there has been formed and acted the Youth Union. The Youth Union has actively been involved in the processes of realizing all projects developed by the "Prosperous Armenia" party. One of the first steps for this projects' realization  is the formation of youth councils at 50 regional structures and their substructures.
In the rows of the formed councils there has been involved qualified, initiative, purposeful and active young people who are able to promote the prosperity of RA .We are keen on the fact, that only  active, united  and educated  youth is able to propel our country.
From 2007 the PAP youth council has been reorganized to be "The PAP Commission  of  Sport and Youth Affairs". The commission reorganization expanded its scopes of activities: besides the young scientists, researchers, Candidates of Sciences, postgraduate students  there are many spoarsmen included in the commission, as well as young student-sportsmen with great sporting results. This high involvement is due to the  work and activities accomplished by the commission.
In the commision there are also involved many NGO members and presidents, as well as student organizations.
"The  PAP Commission  of  Sport and Youth Affairs" casts no doubt of realizing the party's projects, presented to the RA citizens and gained confidence. The core of this is the party's staff and member's professional knowledge. The young people who are considered to be the party's members are sure to pave the way which aims to build a prosperous Armenia at its final stage. They tend to this due to their daily hard work, devotion, skills and abilities.
After the 5th summarizing, the PAP commission of youth affairs has been recalled the PAP Youth Union.
Contact us e-mail: [email protected]