TV RAI reveals the argument between the PACE President Agramunt and the Armenian Deputies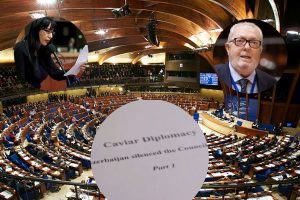 Italian famous ՝  TV  RAI made a 55 minutes documentary telling about the scandalous trial of the  PACE former vice president, honorary chairman of the EPP Group in PACE Luca Volonte.  Milan prosecutor's office  filled in a criminal case against Volonte that accused him of taking a bribe of  2. 4 million Euro from the Azerbaijani Government to carry out  their lobbying and serve the interests of that country.
There are scandalous discoveries about the criminal connection between the current president of the  PACE  Pedro Agramunt and Luca Volonte who were financed for  serving the political interests of Azerbaijan.
The film is widely spread not only in Italy but also in  European countries and possibly in PACE January Session different European  delegations will discuss the issue of resignation of the chairman of the PACE Pedro Agramunt.
The film reveals some scenes of the controversy between Agramunt and the Armenian Deputies at the PACE Autumn Session when breaking the rules of  PACE, Pedro Agramunt  did not allow them to tell about Luca Volonte to be payed for lobbying by depriving their right of speech.