Most of the Citizens Will Vote for the RPA and PAP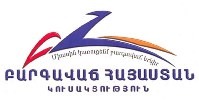 The director of «GALLUP International association» - Armenia Office Aram Navasardyan during a press conference said that according to recent polls, a majority of citizens expressed their desire to participate in  2017 Armenia's parliamentary elections preferring to vote for the  "Prosperous Armenia" party.
"62.2 percent of citizens will certainly take part in the elections, 24 percent  apparently will participate, 4.7 percent will not take part, and 9 percent mentioned that they will certainly take no part in the upcoming elections''.
Most of the citizens  said they would vote for the Republican Party of Armenia and "Prosperous Armenia" party in the upcoming parliamentary elections. Aram Navasardyan says that the Republican party leads in Yerevan and in Marzes/Regions/ the Majority prefers the PAP.
According to the survey, 14.9 percent refused to answer the question, 13.1 percent were undecided, 18.2 percent said no one.
19.5 percent will vote for  the Republican Party
 18.4 percent for PAP favor
 3.5 percent of the ARF's favor
2.4 percent for the ''Civil Accord" party,
1.9 percent for "New Armenia" party,
1.4 percent for the  ANC  party,
1.2 percent for the "Armenian Renaissance'' party,
0,8 percent for ''Bright Armenia'' party,
 0.5 percent for '' Armenian People's Party''
 0.1 percent voted for the "Unity party".