The founder of Party PA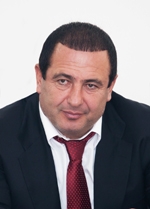 Gagik Tsarukyan was born on 25th November 1956 in the village of Arinj, Kotayk region.
In 1989 he graduated from the Armenian State Institute of Physical Culture. Achieved great success in the sport; In 1996, became world champion in arm wrestling, and in the 1998 became the champion of Europe.
On 2004 Gagik Tsarukyan led the National Olympic Committee of Armenia. Under his leadership in recent years, Armenian athletes have shown excellent results in the world and European championships. At 2008 in Olympic Games in Beijing, our athletes won six Olympic medals.
In 1990-2000 years Gagik Tsarukyan was engaged in business: becoming one of the most famous people of Armenia in this area. 1990-1992 he was executive director of the "Armenia" company. In the 1995 Gagik Tsarukyan founded "Multi Group" concern, which included today about 40 companies. In this structure, in general, operate more than 20,000 employees.
Political activities Gagik Tsarukyan started with in 2002. In 2003 elected as the majoritarian deputy to the National Assembly of RA, and in 2004 founded "Prosperous Armenia" party. The party now has a major role in the political life of Armenia. In 2007 the first time participating in the parliamentary elections, "Prosperous Armenia" formed the National Assembly's second largest faction. In the coalition government to "Prosperous Armenia" entrusted ministries of Sports and Youth Affairs, Labor and Social Affairs, Health and Urban Development.
At the parliamentary elections of 2012 Prosperous Armenia Party, led by Gagik Tsarukyan, got 450 thousand votes from our compatriots, winning 37 seats in the parliament; the second largest faction. After 2012 parliamentary elections Prosperous Armenia Party refused to join the ruling political coalition. Gagik Tsarukyan led the Prosperous Armenia Party till 5 March 2015. On March 5 at the extraordinary meeting of the PAP Tsarukyan resigned as party leader, announcing his resignation from big politics. 
Gagik Tsarukyan known to the society also with his large-scale charitable programs. From 2003 "Gagik Tsarukyan" charitable foundation is working. During these years, the strategic directions of the foundation are:
The construction of churches
Help to educational institutions and the support of youth initiatives
Support for socially vulnerable segments of the population
Implementation of programs for community development
Tribute honors to the famous people in science, culture, arts and sports
Multilateral support to areas of physical culture and sports
Gagik Tsarukyan is married and has 6 children.
Gallery